Two Piece Watch Strap
$

55.00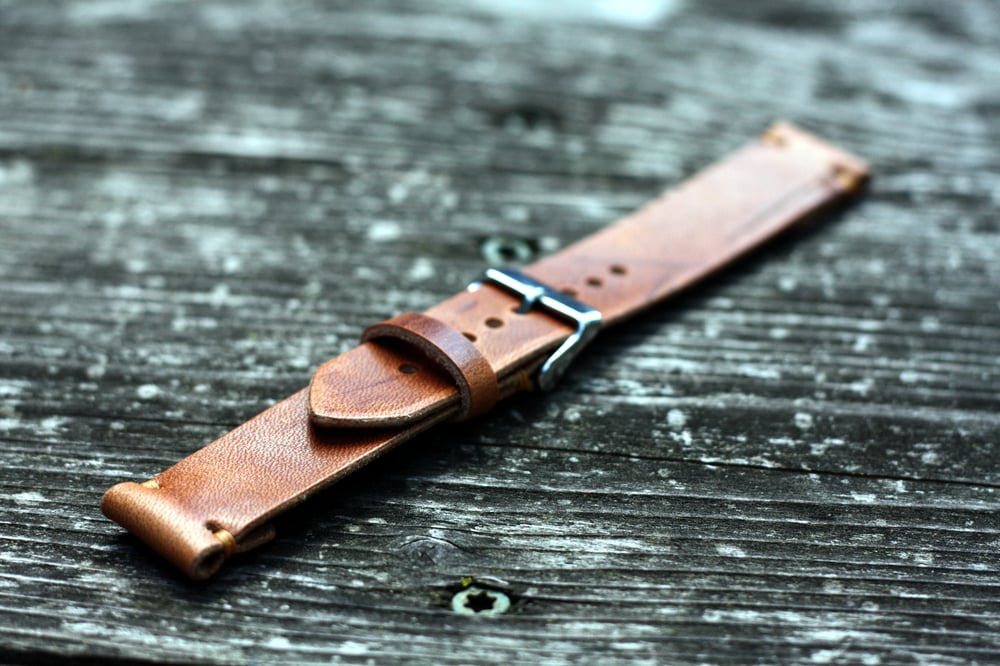 Two piece watch strap with polished stainless steel hardware. Watch strap will fit wrists from 6.5 to 8 inches in circumference. More holes can be added to accommodate smaller wrist sizes.
Cut, burnished, and sewn by hand.
Since each strap is cut from a different part of the hide, each will be unique in its markings and character.
These straps will gain a beautiful patina with time and use.
Can be constructed with 1 or 2 keeps. If no preference is listed in the checkout comments we will ship with 2 keeps.
**We have other leathers available! Please ask if you are interested in a different color or different tannage.
Availability
20mm Horween Natural Dublin

20 mm Horween Brown Chromexcel

20 mm Horween Black Chromexcel

20 mm Horween Brown Vintage

20 mm Horween Crimson Vintage

18 mm Horween Natural Dublin

18 mm Horween Brown Chromexcel

18 mm Horween Black Chromexcel

18 mm Horween Crimson Vintage

20 mm Horween Color 8 Shell Cordovan

20 mm Horween Black Shell Cordovan

20 mm Horween Navy Shell Cordovan

18 mm Horween Color 8 Shell Cordovan

18 mm Horween Black Shell Cordovan

18 mm Horween Navy Shell Cordovan

22 mm Horween Brown Chromexcel

22 mm Horween Black Chromexcel

22 mm Horween Natural Dublin
Share