Button Stud Watch Strap in Hand-Dyed Vegtan
$

19.50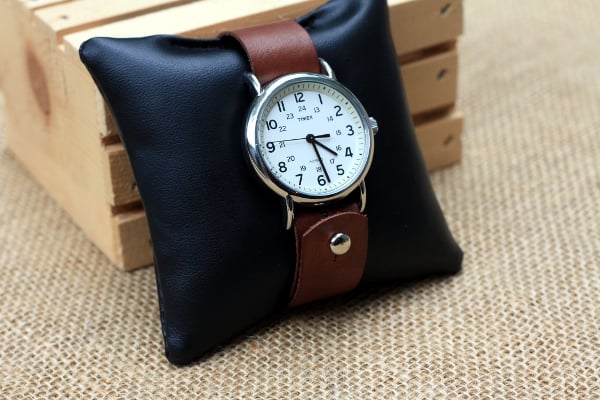 These adjustable watch straps are made from full grain veg tanned 4 oz. leather. Available in 18mm, 20mm, or 22mm widths. The strap has a very clean look and comes in a variety of colors. The natural will develop a beautiful patina over time. Adjustable by moving the button stud to any of the 8 sizes each 0.25 inches apart.
Standard strap length is 10 inches. This allows for the button stud to be placed from 7.5 inches to 9.25 inches. Your watch face will take up some strap length, and you will want some overlap. If you would like your strap cut at a different length, please let us know in your purchase comments*.
*Custom cut straps are considered a custom order and can not be returned or exchanged.
Availability
Natural 18 mm

Black 18 mm

Brown 18 mm

Dark Brown 18 mm

Tan 18 mm

Oxblood 18 mm

Natural 20 mm

Black 20 mm

Brown 20 mm

Dark Brown 20 mm

Tan 20 mm

Oxblood 20 mm

Natural 22 mm

Black 22 mm

Brown 22 mm

Dark Brown 22 mm

Tan 22 mm

Oxblood 22 mm

Blue 18 mm

Blue 20 mm

Blue 22 mm
Share